Six Apart announced beta release of Movable Type (MT) Motion recently. One of key features from Motion is microblogging like Twitter, Pownce (merged to Six Apart already), and me2day (Twitter-like service in Korea; merged to NHN, one of major portals in Korea). One function of microblogging is a sort of
mobile originated (MO)
services handling data flows from mobile phone on users' palm to server side of Movable Type blog as Twitter and me2day do as of present. I am not sure, however, whether Six Apart will provide MT folks with world wide or regional MO-like service embedded in future release candidate or final release. Therefore, last weekend's endeavor was to mimic Twitter mobile support on MT. Then, I succeeded as you can see screen shot below.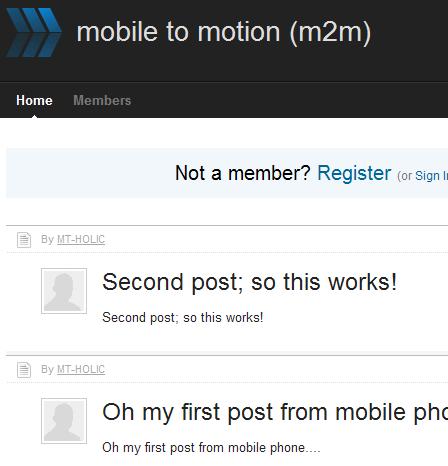 Feasibility study checking out MO service providers in Koreas turned out to be illegible in my budget standpoint. They support http and/or socket interface to store messages fired from handset, then, to make those messages available in service side; MT blog in my case. Simple and easy to implement! However, more than hundred USD per month only with several hundred times of message relay :-(
Instead, turning my eyes onto other references with additional hours led me to some practical as well as free-of-charge approach (in Korean, though) using MSN protocol to hijack messages. MSN in Korea runs business, called phone buddy, in message handling from "messenger tab."
sending messages to mobile phone(s) with flat and the same rate as mobile carrier's
checking phone messages directed to MSN account linked with a certain mobile phone number (my phone number in this case) free of charge :-)
The key idea is to snatch messenger notification when new message arrives, then, to post that snatched message to MT blog!
In the long run, I could post simple lines from my mobile phone onto MT blog by relaying a message headed for MSN account and pushing it to MT with the help of an XML-RPC script shown in this post. Screen shot above may look like ordinary blog posts generated from dash board or direct input upon member logon on MT Motion. However, phone keypad originated those lines.